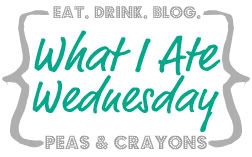 Happy Wednesday Foodies!
It seems like only yesterday when I was writing up my last WIAW!
8 AM
I cannot believe we are already in the tail end of January 2014...
Yesterday, like usual I began my rather chilly morning with a warming bowl of
porridge
. I don't think I will ever get sick of porridge (to see how I make mine check out this
post
!). I topped it off with some dried cranberries and some seeds / nuts. I am using Scottish porridge oats now as I prefer the chunkier texture to the most basic oats.
12.30
Lunch was a little boring and last minute as I made it pretty quickly before I left for University (I didn't think I was staying over lunch time until just before I went to catch the bus).
This is a lovely
food doctor
pitta with some peanut butter and tomatoes. I love these pittas but sadly my Tesco has stopped stocking them so now I have to trek to my other nearest super market if I am craving them!
3.30
As my lunch was rather basic I was pretty peckish later on. I enjoyed a hot chocolate with an apple for my afternoon snack. I was still hungry though so also ate a new flavour of Nakd bar I am trying out - rhubarb custard.
I LOVED this! I do not really understand how they get it to taste so, well, 'custardy' as the ingredients listed on the back are very healthy and basic... I am not going to worry about it though as these taste too fab to be wary of!
6.45
Dinner was a bit of a cheat meal as I grabbed a
Tesco Salmon & Dill parcel
from the freezer and steamed up some brussels to go with it (I can't get enough of these). These parcels are my favourite 'freezer' meals for a quick night meal, still processed but we all have those nights we fancy something comforting and easy like this right?!
I also had a lot of iced water flavoured with frozen berries- this not only looks pretty but actually means the water tastes really lovely and you get a few extra vitamins! Just leave the fruit in the water for 10 minutes before drinking to make sure you have flavoured it.
Add any fruits or even frozen veggies you fancy!
Pud time!
This rather funny looking brown lump is, yet again, some
raw/vegan chocolate orange brownie
with some frozen berries on top (my new fave combo, if a little chilly) and a large mug of peppermint tea :)
Have you eaten something nice this week?